As soon as the buyer walks through the front door what they see influences their expectations of the rest of the home so ensure the entry way reflects the rest of the house.
A potential buyer doesn't want to see someone else's mess. Put unnecessary knick-knacks and furniture into storage and clean out the cupboards. Create the illusion of more space. Minimise the family photos and personal mementos. It makes people uncomfortable and feel like they are invading someone's personal space.
As a buyer there is nothing worse than walking into a dark house. Use lamps to provide extra lighting and to give a warm ambience to the room. Freshen up a space with a lick of paint. Soft whites, stone and yellows are the easiest to blend and co-ordinate with.
Be aware of the walking traffic that will be going through the house on open days and move the furniture accordingly. Remove obstacles from door entry/exits.
Your client might like the cushiness of their couch and the beanbags their friends sit on for movie nights but this doesn't equal a good aesthetic. Consider reducing the amount of the client's own furniture and budget for some hire furniture to finish the house off.
Fresh flowers not only give life and add a touch of romance to a place but scented flowers are subtle mood lifters. Have the carpets and rugs cleaned and ensure that pets are kept outside or away for the day.
With these easy tricks up your sleeve, you can feel more confident in styling for sale and hopefully push up the market value of any property.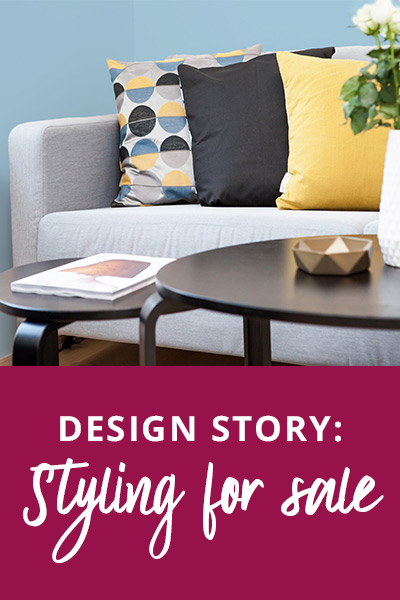 ---
Want to learn more insider interior design knowledge and tips? Undertaking an online course in interior design will provide you with expert advice and support. The Professional Interior Design Course offered by The Interior Design Academy will provide the first step to unlocking the interior designer within you. Get in touch with us today.