Buildings and their interiors are planned to serve the purposes and styles of the times of their origins, but they exert their influence on the activities and lives that they house as long as they continue in use.
Studying the history of interior design, its development and change through time, is a useful way both to explore the past and to make sense of the spaces in which modern life is lived.
Professional interior designers are expected to study design history, to know the practices of the past in terms of 'styles', and to know the names and the nature of the contributions of those individuals who generated the most interesting and influential approaches to design.
---
Antoni Gaudi
In Barcelona, Spain, although there is a variety of work in the Art Nouveau style, the dominant figure of Antoni Gaudi (1852-1926) stands out as the inventor of a highly personal vocabulary of flowing curves and unusual decorative details.
His 1904-1906 reconstruction of an older building, Casa Batlló, included a new facade of complex, bone-like forms with a fantastic roof line and, for some apartments, remarkable interiors. Paneled doors are studded with small mirrors of irregular shape; ceilings are of plaster in swirling curved forms.
Gaudi developed fantastic curving, sometimes bone-like, sometimes wiry forms for furniture designed to be custom made by skilled craftsmen for specific projects. The Guell Park (1905-1914) and unfinished Sagrada Familia church (1903-1926) exhibit Gaudi's fantastic and highly personal stylistic vocabulary on a major scale
---
Charles Rennie Mackintosh
In Glasgow, Scotland, work related to Art Nouveau was produced for a short time by a few designers led by Charles Rennie Mackintosh (1868-1928). Mackintosh's work grew out of Arts and Crafts bases, but moved toward the freedom of Art Nouveau and became greatly admired by continental designers, including those based in Vienna.
For private clients and for his own Glasgow flat, Mackintosh developed furniture designs that most often used simple, geometric forms, but then introduced exaggerated proportions, extreme high chair backs, and white or black paint finishes with decorative details in violet, silver or gold.
Painted ornamental elements were often added by Mackintosh's wife, Margaret Macdonald (1865-1933), who, along with her sister Frances (1874-1921), was an active participant in the Arts and Crafts Movement and related design activities that were centred in Glasgow in the 1890s.
It is a curious fact that the Arts and Crafts Movement, despite its aim to bring about a broad reform in Victorian design and taste, only succeeded in influencing a small group of supporters and enthusiasts able to afford its costly productions.
However, in its rejection of meaningless mass-produced ornamentation, in its emphasis on honesty in the design expression of realities of function, material, and technique, Arts and Crafts pointed toward the future, almost in spite of itself. Its link to Art Nouveau, with its total rejection of historicism, makes it the starting point for all studies of modernism.
---
Gerrit Rietveld
The best known De Stijl ('the style') work was produced by Gerrit Rietveld (1888-1964), whose Schröder House at Utrecht is the most complete realisation of the movement's ideas. It is a rectilinear block made up of complex, interpenetrating planes of wall, roof, and projecting decks, with voids filled by glass in metal sash.
The (upper) main living floor is divided by a system of sliding panels that permit rearrangement to achieve varying degrees of openness. Built-in and movable furniture of Rietveld's design is geometric and abstract in concept. Only primary colours and black are introduced within the generally white and grey tones of most surfaces.
Because of its few members, short life, and limited accomplishments, De Stijl influence in the development of modernism has been less obvious than that of the pioneers in Germany and France.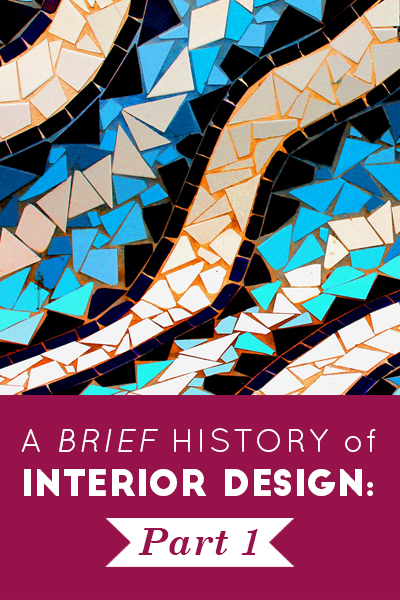 ---
This article is excerpted from The History of Interior Design by John Pile, and is available from John Wiley & Sons. Be sure to check out Part 2 and Part 3 on the history of interior design!