Obtain your Certificate of Completion and Interior Design Identification Pass
At the end of this 12 tutorial course you will have reached a level of skill where you can competently handle all freelance assignments and realistically expect to be well paid for your efforts. If you successfully complete your course, you are entitled to become accredited with The Interior Design Academy and our international affiliates.
This accreditation places you on our register of interior designers and can possibly lead to valuable commissioned assignments. Remember however, there is no substitute for building your own important contacts.
You will also receive your Certificate of Completion –  the official recognition of your successful completion of this course of studies. Also of great importance, is the practical experience that you will have acquired throughout the course. Your certificate will be posted within 10 days of your graduation.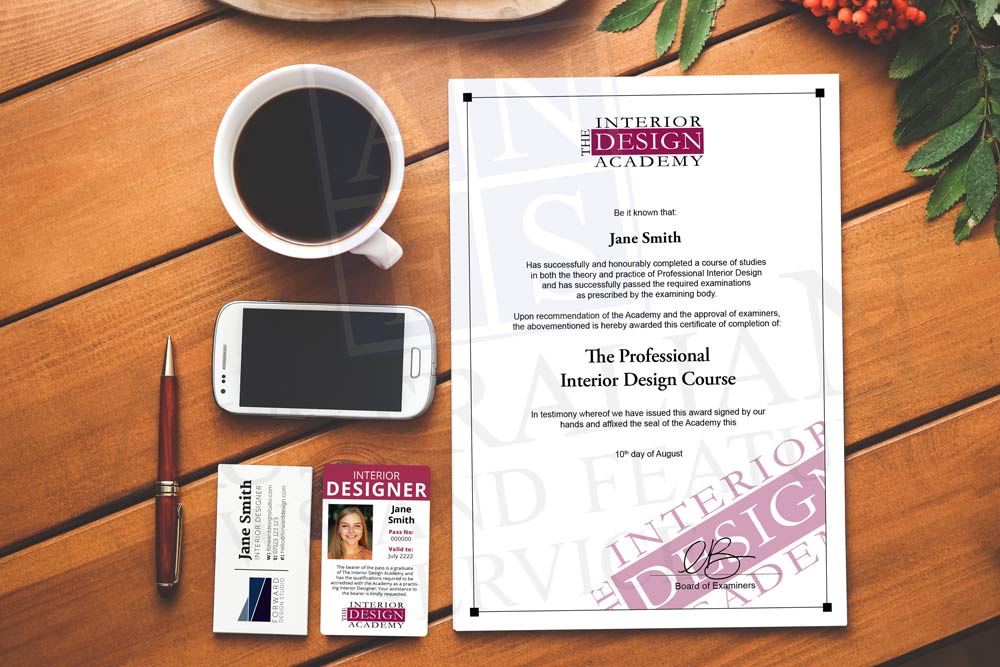 In addition, you can apply to receive The Interior Design Academy's Identification Pass. This Pass clearly states your credentials as an interior designer and provides a useful and important form of identification. The ID pass has a three year expiry, but graduates can purchase an updated pass when required.
You'll find your Interior Design Identification Pass can open many doors for you by providing proof of your successful completion of the Professional Interior Design Course. It may also assist you when negotiating discounts or entry to professional events.
Your training as an interior designer can take you into any area of your choosing… your own freelance consultancy, work with design companies or in retail and sales. Here you will find an ongoing demand for your design ability whether you decide to work full-time, part-time, or as a profitable sideline.  
---